A Big Céad Míle Fáilte
And Welcome to St. Michael's N.S. Website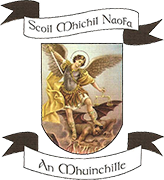 We hope that our website will tell you about all the many activities we are involved in, and that it will show your child that he/she can have fun while learning, and be learning while having fun!
Please enjoy browsing through our photographs, reading about those many activities taking place, or looking up some information about our school.
Tá súil again go mbainfidh sibh taitneamh as an riamhchlár seo!