A Big Céad Míle Fáilte
And Welcome to St. Michael's N.S. Website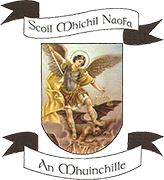 I would like to welcome you to the website of St. Michael's National School, Cootehill, Co. Cavan.
At this school, we consider this website to be an important link between the school and the wider school community. We believe that all pupils are to be cherished as each one is a precious gift to us. We work hard to encourage the emotional, spiritual, moral, intellectual and social aspects of our children's school lives.
We hope you enjoy visiting this website where you can find out all about school events and activities and as the year progresses.
Bainígí sult as!